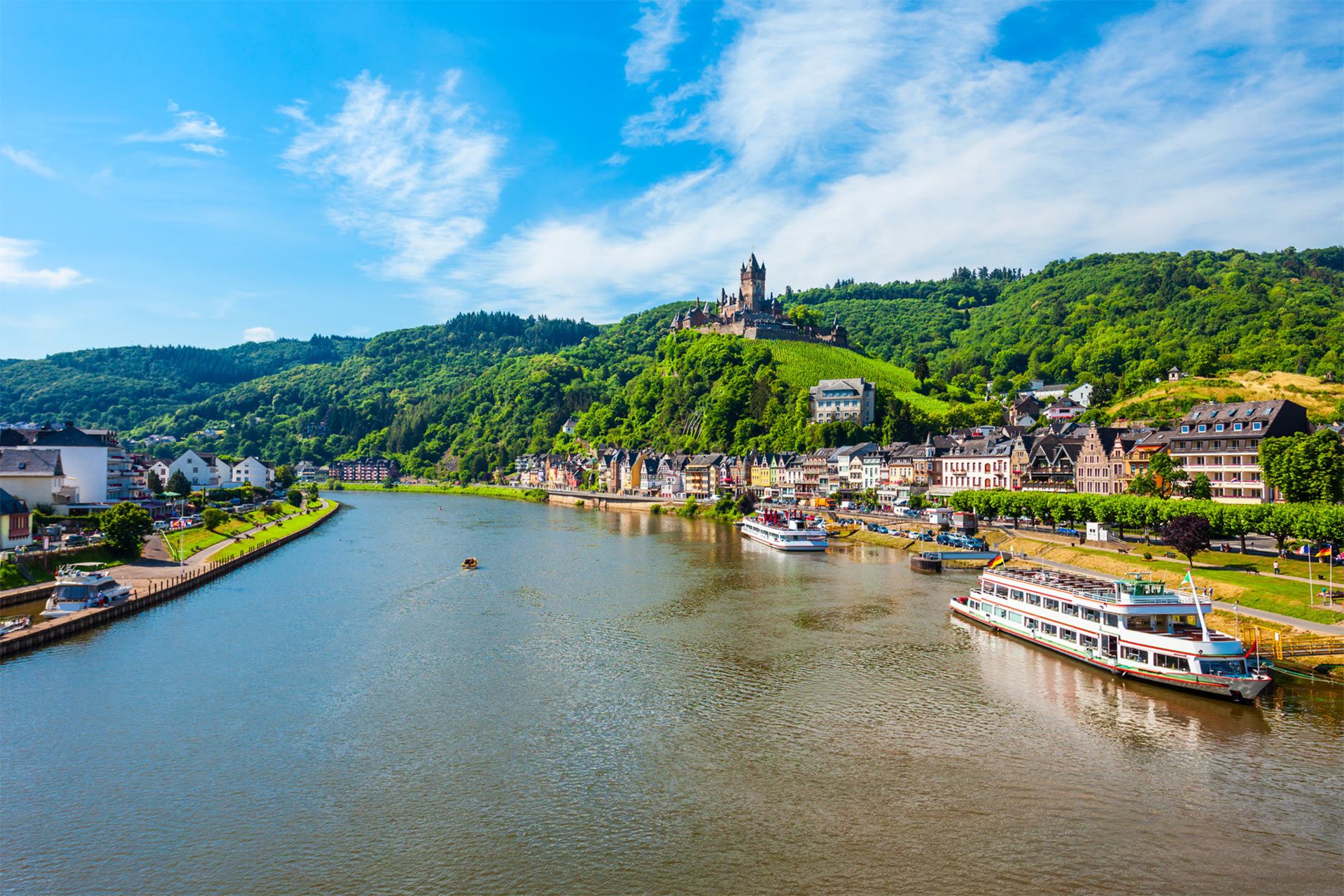 05 Aug

Moselle & Rhein
Where the wine grows between old castle walls and romantic villages
The Moselle and Rhein meet at the famous "German Corner" in Koblenz, whilst Koblenz's old town invites you to take a stroll through it. The Moselle and Rhein rivers quietly wind through picturesque landscapes, past countless castles and palaces, wonderful vine-covered hills and romantic wine-growing villages offering excellent cuisine, and entice you to go on a leisurely boat trip. Walks on the Rheinburgenweg hiking trail take you across country in an idyllic landscape to the legendary Loreley rock from castle to castle. On the banks of the Moselle sits Reichsburg Castle, surrounded by steep vine terraces and gazing far into the distance.
Pure tradition: Moselle wine region
The Moselle is Germany's oldest wine-growing region. A holiday on the Moselle is therefore predestined for a wine tasting session at a vineyard or on a romantic Moselle boat trip. Explore the graceful Moselle valley on the Moselle cycle path, the Moselsteig and lots of designated theme trails. An inside tip is the peach blossom between Cochem and Bremm in March and April. The ancient Romans originally brought the vineyard peach to the Moselle; today the trees grow between the vines and provide the fruit for home-made vineyard peach jam and delicious Kir Moselle.
The Middle Rhine: Loreley, culture and cuisine
Rhine Romanticism began in the 18th century, when Clemens von Brentano composed his famous ballad of the singing siren, Loreley. Poets and painters discovered the beauty of the Middle Rhine and were enraptured by its pristine landscape, picturesque villages and the majestic castles and palaces that soared high above the Rhine valley. Of course, they also paid homage to the local wine, which was also served in taverns in those days with dishes from Rhineland cuisine such as sauerbraten, the traditional dish of Himmel und Erde made of potatoes and apples, dippekuchen (grated potatoes, onion and meat) or doughnuts. The upper Middle Rhine Valley has been a UNESCO World Heritage Site since 2002, which can be explored on hiking trails such as the Rheinsteig, the Rheinburgenweg or Jacobsweg, as well as on cycling tours or on a boat trip along the Rhein.
Attend the following events as a guest in our Flair Hotels on the Moselle and Rhein: Rhine in Flames firework displays, Federweisser wine festival, peach blossom, grape harvest and much more.