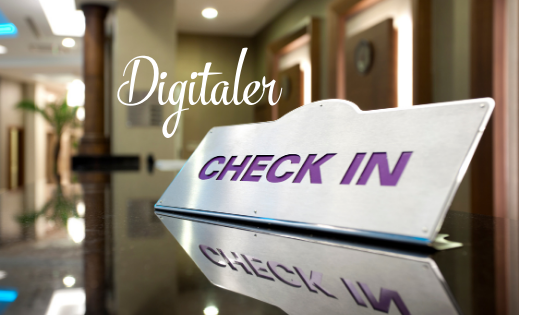 09 Apr

Digital check-in at the Flair Hotel Zur Eiche
BUCHHOLZ, JULY 2020.
It has been possible to check-in digitally at the Flair Hotel Zur Eiche since mid-2020. The topic of digital check-in has been topical for a long time and has been indispensable since Corona at the latest. At the reception of the cute 3-star hotel in the Lüneburg Heath, guests only get their room key and are advised of the check-in via the digital guest directory from Betterspace in the room. There is a tablet there on which you can then fill out the registration form yourself in a relaxed manner.
The digital guest directory via tablet has been available in the 18 rooms of the Flair Hotel Zur Eiche for several years. On the electronic assistant, guests can find all the important information – from destinations in the region to the restaurant's menu. And around the clock. Now the owners of the hotel, the siblings Christine Buchholz and Jan Philip Stöver, have also solved the digital check-in via tablets. The hoteliers have only had good experiences with it and the guests are enthusiastic too. "It's nice to see how well our guests rate the fact that they can check in digitally at our hotel," said Christine Buchholz.
Advantages of digital check-in
Digital check-in is a win-win situation for hotels and guests alike. The hotel saves personnel costs and time, processes are simplified. Thus the house can offer more service. Independent check-in is hygienic and comfortable for guests, especially since there are no waiting times. "With regard to Corona in particular, the guests are very positively and happily surprised that we are offering this service," says Christine Buchholz. The guests felt better looked after. Another advantage for both parties is that there are almost no more errors in the guest data, as the guests enter them themselves.
About the Flair Hotel Zur Eiche
The Flair Hotel Zur Eiche is located in Buchholz in the Lüneburg Heath. The family-run house with regional warmth is the perfect starting point for cyclists and hikers who want to enjoy the wonderful nature of the heath. Those who like to take a trip to the lively cosmopolitan city of Hamburg during the day, but want to live quietly again in the evening, are also at the right address. And business travelers will also find comfortable accommodation in the oak. The restaurant offers excellent and highly acclaimed cuisine. Good bourgeois, reinterpreted. At the stove is the Flair Chef of the Year 2020, Jan Philip Stöver.
It's nice to see how well our guests rate the fact that they can check-in at our hotel digitally
Press contact:
Sophie v. Seydlitz
Head of Marketing & Sales
Flair Hotels e.V.
Tückelhäuser Str. 10
97199 Ochsenfurt, Germany
svs@flairhotel.com